Dates 2024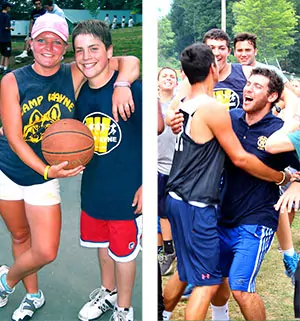 Tuesday, June 11

– Waterfront and Outdoor Adventure staff arrives

Tuesday, June 18

– Remaining counselors arrive

Thursday, June 27

– Camp Begins

Wednesday, August 14

– Camp Ends
Staff FAQs
Why choose Camp Wayne?
Spending time outdoors, doing something you love is a great way to enjoy the summer. Working with professionals, while being treated as a professional, is an important part of the experience. Having the chance to be a role model and mentor for our campers is an incredible opportunity. Working in this environment will strengthen leadership, teamwork and communication skills. At Camp Wayne, you will work with an outstanding staff from all over the world and will make friends that will last a lifetime. We work hard to ensure that every camper and staff member has the best summer of their lives.
How much free time will I have?
We recognize that being a counselor is a hard job that requires plenty of free time to relax and recharge. Counselors have one period off per day and several nights off per week. In addition, counselors have five days off during the summer and have the opportunity to take advantage of our proximity to New York City, Philadelphia, Niagara Falls and other great sites in the Northeast. Counselors are welcome, and encouraged, to take advantage of all of our facilities during time-off, including relaxing in our staff lounge.
Will I have access to the internet?
Our staff lounge has computers where staff can jump online during their time off. The staff lounge also has wi-fi for staff who wish to access to the internet from their own devices.
Are there special events for staff?
Throughout the summer, we have a special co-ed activity just for our staff. Together with the staff from Camp Wayne for Girls, we organize events like bowling parties, luau parties, square dancing, casino night, trips to the movies and so much more. It's our way of saying thanks for a job well done.
Do I actually get paid for having a great summer?
Of course you get paid. In addition to a salary, you will also receive a travel allowance, which is calculated based on your departure area. Don't forget, once you get to camp, you won't have any expenses. Room, board and laundry service are all included as part of your salary.
Is there a sister camp?
Yes, Camp Wayne for Girls is on the other side of our private lake, about a 15 minute walk away. Campers and staff from both camps interact during evening activities. In addition, staff members socialize during days and nights off.
How do I get to camp?
You have a few options here. You can drive, take a bus or fly into any of the three New York-area airports. Keep in mind that we only pick up at John F. Kennedy Airport so if you choose to fly to a different NY-area airport, you will need to make your way to JFK for the pick up. Our JFK pick up schedule is set months in advance so staff should consult their travel form to ensure they select a travel date that coincides with a pickup. We also arrange rides for people who live near other staff members who may be driving.
What are the kids like?
We have the greatest kids in the world! Campers are primarily from upper middle class families from the east coast and range in age from 6-16. The one thing that all of our kids have in common… they love to play.
Is there a staff uniform?
We provide all of our counselors with five staff shirts to wear during the program day. Counselors do not need to wear their staff shirts in the evening.
What are the bunks like?
Bunks are spacious and comfortable with single and/or double decker platforms beds. The rear of the bunk contains the bathroom area with individual stall showers, toilets and sinks. You do not need to leave the bunk to access the bathroom.
Is there staff training?
Our staff training starts one week before the campers arrive. Our goal during this week is to provide you with all the tools you'll need to be the best possible counselor! It's also a great time to get to know your fellow staff members. Training for our waterfront and outdoor adventure staff start two weeks before the campers arrive.
What is the food like?
We think the food is delicious and so do our campers and staff. Campers and counselors eat together in our bright, air-conditioned dining room overlooking the lake. Breakfast is served buffet-style. A typical energizing breakfast includes hot and cold cereals, a hot entree such as pancakes, waffles, eggs or french toast. The breakfast bar has fresh cut fruit, yogurt, hard-boiled eggs, bagels, lox, whitefish, juices and hot chocolate.Lunches and dinners are served family-style, and include items like homemade soup with grilled cheese, barbecued chicken and ribs, brisket, roast turkey, spaghetti with meatballs, teriyaki chicken, sliced steak with curly fries and chicken nuggets. In addition to the hot meal, there are salad bars, pasta bars and a deli bar every lunch and dinner. We serve fresh fruit for dessert at lunch and something sweet to finish off the dinner meal.
Where is Camp Wayne?
Camp Wayne is located in Preston Park, Pennsylvania, about 150 miles (2 ½ hours drive) from New York City. As part of the Endless Mountains of Pennsylvania, our campus is on over 400 acres of property with two private lakes.
Is this a 9 -5 job?
Far from it. This isn't your typical summer job where you punch out at 5 PM. In fact, we consider the counselor job to be a 24 hour a day experience. Of course, you're not actively working 24 hours a day. However, when you're on the camp grounds, we're always responsible for our children regardless of the time of day. That's what makes this job so special. A great counselor maintains a high level of energy and enthusiasm throughout the summer!
Other important policies:
We're a smoke-free camp! Smokers are discouraged from applying. In addition, staff members are expected to obey all state and federal laws as they relate to drug use and the consumption of alcohol. We have a zero-tolerance policy for drug use and staff members under the age of 21 are not permitted to consume alcohol during their period of employment, including free time off the camp grounds. Alcohol consumption is not permitted on the camp grounds and staff members are prohibited from returning to camp under the influence of drugs and alcohol.Staff members can only use a cell phone in the staff lounge when they have time off.